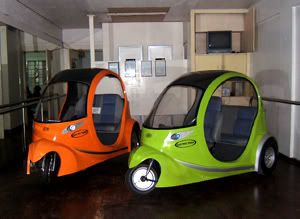 Engineer Gerry Caroro has been assembling vehicles and tinkering with electric bikes since he was in high school, but he only had the chance to push through with it sometime between the years 2000 and 2001. And so he launched G Car Motors Philippines. The company has already manufactured electric cars, trikes, and bikes, the prototypes of which you can see in their Quezon City showroom.
The company's manufacturing facility is located in Bataan, where they also conduct numerous test drives to make sure that each vehicle is in order. At the moment, they are producing 20 units per month, but are looking into expanding and hopefully upgrade to 100 units per month. They are also hoping to manufacture amphibious vehicles in the future, which would hopefully help motorists get through the floods of typhoon season.
Gerry is particularly interested in environmental issues around the world, which is why he decided to create environmentally-friendly vehicles in the first place. He's particularly worried about pollution in Metro Manila, and hopes to help ease the situation with his electric vehicles.
G Car's electric vehicles are small, cute, colorful, and eyecatching. Engineer Gerry Caroro explains, "If I'm going to make something new, I might as well make something that looks different. Why invent a new product that will just look like everything else out in the market?" His inspiration for the vehicles' designs is the Philippine eagle, which he believes is a powerful symbol for the country.
Cuteness may sell in other industries, but for automobiles, it takes more than that. So what do these electric vehicles offer?
First of all, regular car batteries make these vehicles run. Charging these batteries take anywhere from six to eight hours. All you have to is just plug it in like you would any other appliance. Don't worry about overcharging the battery. The charger is equipped with an automatic shut-off feature once battery power has been boosted to the max. The car can run for 60 to 80 kilometers on one full charge at the recommended speed of 40 kph. If that's a little tame for you, you can choose to have higher-voltage batteries installed, which will then allow you to clock in at 60 to 80 kph. The basic vehicle doesn't come with a sound system or air conditioning, but G Car would include those features with a vastly-improved battery installed.
Solar panels are an optional feature of the vehicles. They're not intended to power the cars, but rather to charge the batteries. Gerry tells us that at the moment, the cars are most efficient on level terrain and even on flyovers. He hopes to come out with an improved version in the future, a hybrid vehicle making use of electricity and biofuels.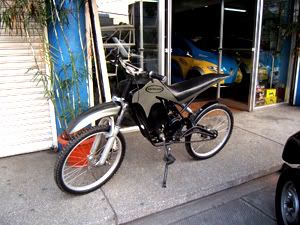 G Car has also come out with two versions of the electric bike. One runs solely on batteries while the other is equipped with a battery and can also be pedaled. "If you get tired of pedaling, you can just switch on the bike and the motor will run for you. And if you want to conserve the battery, just switch it off and pedal again," Gerry says. Charging these bikes take four to seven hours and can be used for a maximum of three hours.
Engineer Gerry Caroro concedes that his electric cars are undergoing constant development and haven't been fully optimized yet. They are fighting for the electric vehicles to be allowed on major highways such as EDSA and are awaiting approval from the DOTC. However, the use of these cars is permitted in subdivisions and on smaller roads.
He also discovered that he's not alone in his dream of producing electric vehicles. After being interviewed on TV, he received calls and visits from other independent individual electric vehicle manufacturers, who have assembled items such as electric jeeps.
As with new products and inventions, he is facing several challenges, not least of all overcoming people's skepticism about the viability of a Philippine-made electric car and weaning people away from their preference for enormous foreign SUVs. Still, he's hopeful it can be done if people see for themselves that they actually work and could save them a lot of money, and help the country in the process as well.
For inquiries, or if you are interested in funding the development of the electric cars and bikes, you can get in touch with Engr. Caroro at
G Car Motors
38-C West Avenue
West Triangle, Quezon City
+632 3765420, +632 3765423
gcar_motors@yahoo.com