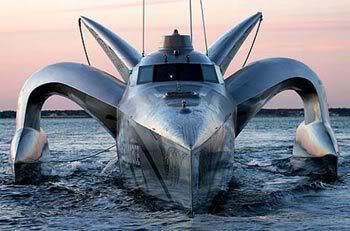 We've heard of vehicles powered using different fuels, even cooking oil, but this one could top any list of vehicles using an unusual fuel source. Pete Bethune of New Zealand and his wife mortgaged their house and gave up everything they had just to finance their project, the Earthrace, which runs on–get this–human fat!
On 1st March 2008, from Valencia, in Spain, Earthrace will attempt to set a new speed record for a powerboat to circumnavigate the globe running 100% biodiesel, and with a net zero carbon-footprint, in order to increase awareness of the environment and the sustainable use of resources.
A noble cause indeed, and we're sure you're also quite curious how the human fat will be processed into biodiesel. Bethune himself underwent liposuction, which yielded enough fat for 100mL of biofuel. Everyone's sure to keep an eye on this venture. Just think of the possibilities! I can't help imagining though that people all around the world who are contemplating liposuction will finally go through with it, seeing that their fat could actually go to a good cause.